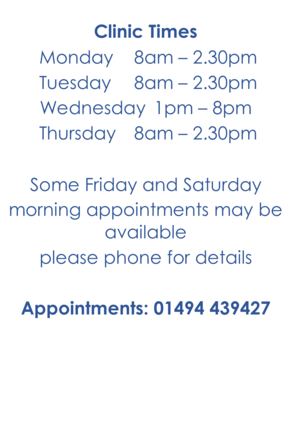 Total Foot Care - Treatments & Prices
Chiropody Treatment..........£38
Consultation and treatment of nails, hard skin, corns, fungal nails, athlete's foot etc, includes gentle foot massage to finish (30 to 45 mins).
Chiropody Followed by Warm Wax Treatment..........£48
As above plus relaxing, warm, lavender scented wax application to the feet to relieve aching joints, chilblains and to re-hydrate hard, dry and cracked skin. Sit and relax with a tea or coffee whilst the heated boots keep the wax warm and aid absorption of the moisturising cream (60 to 75mins).
Therapeutic Foot Massage..........£28
Sit back and enjoy a full 30 minute therapeutic foot massage. Book as a stand-alone treatment or as a follow-on after either of the treatments above.
Verruca Treatment..........£28
There are several treatments available - these will be explained at the first appointment and an appropriate treatment regime can be decided upon. From thereon it will probably be necessary to plan regular follow-up appointments (15 to 30mins).
£25 plus LCN per nail ...........£8
Klenz Footwear Sanitiser..........£6
Removes bacteria, virus and fungal infection from footwear while you have your feet treated. Also removes nasty odours!(8 min per session)
DEBIT & CREDIT CARDS ACCEPTED






VOUCHERS AVAILABLE FOR ALL TREATMENTS
An ideal gift for birthdays, Christmas, anniversaries, Mothers Day, Fathers Day, and as a special 'thank you' for friends and loved ones.
As at 1st January 2017